The Meridian Condominiums represent the very finest in Resort Style living on the Gold Coast of Cleveland. The Meridian is the only Condominium on the Gold Coast built as a condominium complex. It's the little things that separate Meridian from other condominiums on the Gold Coast. Each Condo has its own central air and heating system; twelve inch concrete walls separate each condo guaranteeing quit living space; Owner managed to ensure the very best in maintenance and improvements; a healthy and substantial reserve fund that provides financial security, and amenities that are far superior including the only indoor and outdoor aquatic facility. For those looking for class, style and elegance on Cleveland's lake shore look no further than the Meridian Condominiums.
Location
The Meridian Condominium is located in Lakewood, Ohio along the shore of Lake Erie, 5 miles west of Cleveland's Public Square. Lakewood is widely known as a "City of Homes." It offers both the amenities of city living and the charm of a small town. Within Lakewood's 5.6 square miles there is a diversity in housing, from modest single homes to the luxury "Gold Coast" condominiums. The northern section of Clifton Park, a residential neighborhood, is listed in the National Register of Historic Places.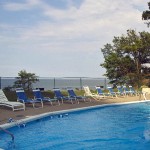 Lakewood's population of 56,646 (2000 census) makes it the fourteenth largest city in Ohio. The total number of dwelling and rooming units, residential and commercial is 28,625, and the average household size is 2.2 persons.
Lakewood is recognized for its excellent school system and outstanding city services. Cleveland Free Times, the alternative news weekly with a readership of sophisticated, educated, upwardly mobile, young adults, rated Lakewood at the top of communities in Cuyahoga County in its June 22, 2005 issue.
Luxury living along the north coast is nothing new to Lakewood and the city has established many long standing condominiums. The stretch of condos along the lake has been named the "Gold Coast" and there is something for everybody. From $40,000 lofts to million dollar penthouses, there is plenty to choose from in this area The Meridian Condominium in particular is considered the most stable, secure and luxurious of all the condominiums on the Gold Coast and awaits you along the lake. There is no substitute for the accessibility to downtown that the meridian offers with the peacefulness that this lake community can provide.