At the Meridian, life gets elevated in more ways than one. Our 18-story property, perched on Lake Erie's coast, provides owners with an oasis of sophisticated luxury, conveniently adjacent to many of the city's top destinations and nestled along an avenue of Lakewood's finest homes. Unbelievable, sweeping views of the lake, downtown Cleveland and northeast Ohio await you, as does a variety of interesting suite floor plans and sizes, top-notch amenities and services, and an affable community of diverse residents. Welcome to the Meridian: resort-style condominium living at its highest and best.
The Meridian: The best of Cleveland within easy reach
Living at the Meridian keeps you close to the pulse of Cleveland's palpable vibe. It's just five short miles to downtown (drivable in under 10 minutes on the West Shoreway); even closer to destination neighborhoods like Ohio City, Hingetown, Tremont and Gordon Square. To the west, downtown Lakewood and Rocky River are just minutes from your fingertips.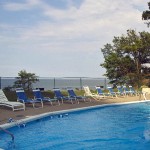 The Meridian: Unparalleled amenities, convenient luxury
Resort-style, lakefront living reaches perfection at the Meridian. Once at home here, owners find it impossible to imagine life on any other terms.
It starts with the Meridian's construction, which is truly unique on Lakewood's Gold Coast because it's one of the only complexes built as a condominium, not an apartment building. Twelve inches of concrete between every unit and floor ensure owners ample peace and quiet. Suite floor plans vary and include one-, two- and three-bedroom options, all from 900 to 2,500+ square feet. Moreover, the Meridian's smart design includes balconies and separate HVAC units for every suite.
Ready to exercise? Forget about driving to a gym or recreation center. Instead Meridian residents ride the elevator to a fantastic fitness facility, which includes modern equipment for aerobics and weight training. Ready for more? Try the indoor racquetball court or the pools -- yes, it's plural. The Meridian is only condominium in the area that offers heated indoor and outdoor pools. When you're done working up that sweat or just need a break from the day, rejuvenate in the whirlpool, saunas, or step out onto our large, grassy backyard, where seating along a dramatic cliff high above Lake Erie will provide you space for reflection and impressive city views.
Up for some socialization? You'll find the Meridian always has something going on for every interest, all organized by owners for owners. Monthly Happy Hour gatherings, seasonal parties, yoga classes, impromptu walks over to Pier W for drinks or dinner, and more, all await those who seek to share some time with others.
Need more still? Check out the billiard room, hobby/media room or gallery lounge, all of which also make for great spaces to settle in and get some work done. For larger gatherings, you can enjoy or rent the Meridian's beautifully remodeled party room, which includes a player baby grand piano, full kitchen, and wet bar.
The Meridian: A diverse, engaging and astute community
Home to a community of owners from many walks, professions,and seasons of life, you'll find the Meridian a dynamic cross-section of Cleveland. Owners enjoy life made simpler, more refined and with plenty of privacy or sociable community, depending on personal preference.
And, we're serious about keeping the Meridian the ultimate address for this style of living. The building boasts a healthy and substantial reserve fund that provides financial security.  The Association is being professionally managed by Coral Management Company.